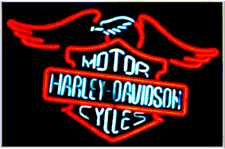 http://www.sheldons.com/index.shtml
Harley-Davidson, Inc. (NYSE: HOG) is an American manufacturer of motorcycles based in Milwaukee, Wisconsin, United States. It is one of the two remaining American mass-producers of motorcycles (along with Victory). The company emphasizes heavy bikes designed for cruising on the highway and known for their distinctive exhaust note.
Harley-Davidson motorcycles (popularly known as "Harleys") are distinctive in both design and sound. Harley-Davidson motorcycles attract a loyal following (in marketing terms, the owners form a brand community).
The Motor Company supplies many domestic police forces with their motorcycle fleets. Harleys are especially noted for the tradition of heavy customization that gave rise to the chopper-style of motorcycle. It also licenses its logo, which is a profitable side business ($ 41 million of revenue in 2004, or almost 5 % of net income).
Since 1998 the Buell Motorcycle Company is a 98 % subsidiary of Harley-Davidson